The Honda B18 Engine Manual. The Honda B-Series engine was first presented to the world in 1989, appearing in the Honda Integra XSi and Honda Civic SiR, and was initially launched as the 1.6L Honda B16 engine. A few years later, in 1990, Honda introduced the B18 as a new entry into the B-Series platform. The Honda B18 4-cylinder engine had the same general structure as the older Honda B16 1.6L 4-cylinder engine, but the displacement was increased to 1.8L. Unlike the B16 1.6L Honda engines, which were the first to use VTEC and all contained Honda's variable valve timing system, the majority of B18 engines, despite being released later, lacked VTEC.
During the 1.8L Honda B18's 11-year production cycle between 1990 and 2001, it was available in 16 different variants ranging from the B18 to the Type R B18C7. The Honda B18 engine has twice as many versions as the older B16 and 2.0L B20 engines. As a result, the B18 is one of the most popular and sought-after engines in the B-Series platform. The US acquired just six of the sixteen B18 types, including the B18A1, B18A2, B18B1, B18B2, B18C1, and B18C5.
This guide will go through the Honda B16's characteristics, performance capabilities, typical modifications, and dependability.
Engine Specifications for the Honda B18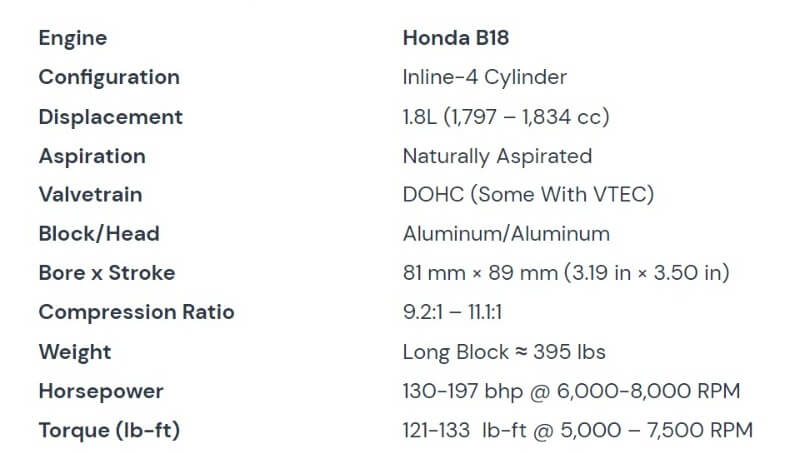 The Honda B18 engine has several characteristics with its predecessor, the B16 engine. The B18 has an aluminum block and head, making it a small engine weighing only 395 pounds. It's also a very strong engine, with factory cylinder sleeves and bulletproof internals that can withstand more than 100 horsepower more than the factory output.
The Honda B18 is the B-Series lineup's middle child. It outsizes the Honda B16 engine, which has a displacement of 1.6L, but it has a lesser displacement than the larger Honda B20 engine, which has, you got it, a displacement of 2.0L. Despite its tiny displacement, the B18 engine produces reasonable power thanks to numerous Honda advancements. The dual overhead cam system was carried over from the Honda B16. The B-Series was marketed as a more powerful version of the Honda D-Series, which were all single overhead cam engines.
The B18's high torque figures are one of its main selling factors. Even the smallest B18A1 produced 121 lb-ft of torque. The most powerful US B18C5 produced 130 lb-ft of torque at 7,500 rpm, making it a good racing engine.
What Vehicles Make Use of the Honda B18 Engine?
B18A of the First Generation
Accord Aerodeck LXR-S/LX-S (Japan) 1986-1989
Accord EXL-S/EX-S (Japan) 1986-1989
Vigor MXL-S (Japan) 1986-1989
B18A1
Acura Integra USDM "RS/LS/LS Special Edition/GS" (DA9 Liftback/Hatchback, DB1 Sedan) 1990-1991
Acura Integra USDM "GS/LS/LS Special Edition/RS" (DA9 Liftback/Hatchback, DB1 Sedan) 1992-1993
B18A2
Honda Integra LS DB1 Sedan, 1990-1993
B18B1
Integra RS/LS/SE/GS 94-01 – DB7/DC4/DC3
Honda Integra "RS/LS/GS/SE/(GSI Australia)" (DC4/DB7) 1994-2000
JDM Honda Domani (MA5) 1992-1996
JDM Honda Integra (DB7) 1993-1994
JDM Honda Orthia (EL1) 1996-1999
B18B2
Integra RS/LS/SE/GS 94-01 – DB7/DC4/DC3
Honda Integra "RS/LS/GS/SE/(GSI Australia)" (DC4/DB7) 1994-2001
B18B3
Honda Civic – Middle East & South Africa Ballade (SR4) 1992-1995
B18B4
Honda Civic – Middle East & South Africa Ballade (SO4) 1996-2000
B18C Type R JDM
Honda Integra JDM Type R (DC2 & DB8) 95-00
JDM B18C
Honda Integra JDM SiR/SiR II (DB8, DC2) 95-98
Honda Integra JDM SiR-G (DB8, DC2) 1998-1999
Vemac RD180 2000
B18C1
Acura Integra USDM GS-R (DC2 & DB8) 1994-2001
B18C2
Honda Integra AUDM/NZDM VTi-R 1994-2001
B18C3
Honda Integra in the Asian market
B18C4
Civic VTi 5-door Hatch (MB6) from 1996 to 2000 in the United Kingdom
Civic 1.8i VTi-S (Limited Edition) 5-door Hatch (MB6) 1996-2000 UK
Civic Aerodeck 1.8i VTi 5-door Wagon (MC2) 1996-2001 UK
EU Civic Aerodeck 1.8i VTi 5-door Wagon (MC2) 1998-1999
EU Civic 1.8i VTi 5-door Hatch (MB6) 1998-1999
B18C5
Acura Integra USDM/CDM Type R 1997-1998, 1999 CDM, 2000-2001 Acura Integra USDM/CDM Type R
B18C6 (Model R)
Honda Integra UKDM/EUDM Type R 1998-2001
B18C7 (Model R)
Honda Integra AUDM/NZDM Type R 1999-2001
Honda B18 Engine Performance Stock
When it comes to the factory performance of the Honda B18, it is difficult to condense all of the versions into a single description. Because there are 16 different variants to consider, with some having dramatically different compression, peak torque, and horsepower figures, as well as a lack of VTEC, B18 variants can behave very differently. Because of the lack of VTEC and the reduced compression ratio, the B18A2 found in the USDM 1990-1993 Honda Integra LS has drastically different characteristics from the B18C5.
While VTEC is frequently regarded as a requirement for a low-displacement Honda 4-cylinder in the Japanese market, non-VTEC variants of the Honda B18 remain extremely popular. The Honda B18A1 engine is particularly popular because it is one of the cheaper B18 types while yet producing a decent 130 horsepower. Integras with B18B engines from 1994 to 2001 are also quite popular in the Honda community. The B18B has 140 horsepower, which is significantly greater than the B18A2. While neither the B18A2 nor the B18B have VTEC, a VTEC head can easily be swapped onto the bottom end of either engine. Among Honda fans, this is commonly referred to as an LSVTEC.
As you might expect, the VTEC-equipped B18C is the most popular B18 engine variant in the United States. Not only does the B18C5 benefit from VTEC variable valve timing, but it is also the most powerful B18 engine type available in the United States. Because of this, as well as the fact that the B18C5 was only available in the desired Acura Integra Type R, it is also the most expensive B18 variation to purchase.
Regardless of version, the Honda B18 is a strong engine with significant tuning possibilities and respectable out-of-the-box performance.
What Horsepower Can The Honda B16 Handle?
In factory form, the Honda B18 4-cylinder engine is an extremely powerful engine. Because the engine's internals are so tough, it's not uncommon to see stock Honda B18s pushing over 300 horsepower. Having said that, maximum horsepower figures are entirely dependant on a variety of distinct circumstances. Obviously, a Honda 4-cylinder that has been well maintained throughout its service life will perform considerably better when subjected to high horsepower ratings than a neglected one. Overall, it is best to make sure your B18 engine is in good internal condition before attempting to push its limits with power mods.
The maximum horsepower figure for a Honda B18 is 300whp. B18s have been known to produce up to 1,000 horsepower with the right strengthening upgrades such as forged pistons, improved cylinder sleeves, fueling mods such as meth injection, and a good tune. Obviously, the amount of horsepower that a B18 can produce is entirely dependent on budget. For those on a tight budget, 250-300 horsepower is an achievable aim. If you want more power than that, you'll have to pay a premium.
Upgrades for the Honda B18 Engine
The Honda B-series engines are all famed for their unrivaled dependability. In fact, most B-series aficionados will tell you that if you want a "mild" horsepower figure from your B18 (200-250whp), you won't have to open the engine at all.
While it is exciting to consider building a big-power turbo Honda B18 engine, it is critical to first consider your end goal. Do you want a daily driven B18 Integra with a little more oomph? A drag car powered by a B18? Ultimately, the alterations required for your B18 build will be dictated by the end aim. The possibilities for a modified B18 are truly limitless, with the only constraint being the expense. Having said that, 200-250 horsepower is a fairly attainable aim that won't break the wallet.
A turbocharger kit is the most frequent high-horsepower modification for the B18 4-cylinder. The B18 in stock form is an ideal candidate for forced induction. Having stated that, bigger boost loads will necessitate internal improvements. Because the B18 has a low compression ratio, it requires little modification to produce reliable boost. Most people think the B18's stock internal hardware is quite solid. While the internal components of the Honda B18 are strong, figures above 300whp will necessitate some internal work.
B18 Cams
Upgraded cams are one of the most common modifications made to Honda B-Series engines in general, including B18s. That being stated, there are a number of factors to consider when acquiring enhanced B18 cameras. VTEC-equipped B18 variations, such as the B18C1 and B18C5, will, of course, require different cam profiles than non-VTEC B18 variants. You'll also need to think about what kind of Honda B18 build you want. High-horsepower B18 Honda drag racers will require significantly more aggressive cams than a moderate B18 street setup. Fortunately, regardless of your application, there are numerous B18 cam alternatives available.
When it comes to modified Honda B18 cams, you must decide where in the rpm range you want the most performance improvement. Some Honda owners prefer a B-Series cam that pushes peak power production to the top of the rpm range, as this is the greatest setup for track driving. Alternatively, there are numerous mild-grind B18 cam options available that will improve performance across the entire rev range.
B18 cam performance is also affected by a number of other things. The intake manifold and exhaust system you install on your B18, for example, can have a major impact on where in the rev range maximal power is produced. Mild grind cams are also said to perform poorly in B18 variations with reduced compression, such as the B18A and B18C1. For mild grind cams, higher compression pistons or a different head gasket are frequently recommended. Upgrade your valve springs and spring retainers as well.
Depending on the cam grind and tune, a set of B18 cams can produce anywhere from 15 to 100 horsepower.
Honda B18 LSVTEC Head Replacement
Because the majority of the Honda B18 engines we received in the US lacked VTEC, swapping a VTEC head onto a non-VTEC bottom end is one of the most common modifications for those who have non-VTEC B18 variants. This is especially true for the B18A1, B18A2, B18B1, and B18B2 models. The performance boost from performing this change on a non-VTEC B18 is substantial. Mild LSVTEC setups generate around 200 horsepower, while aggressive builds generate close to 300whp.
The DOHC VTEC head can be sourced from a variety of Honda engines. B16, Type R, and GSR heads are the most prevalent. At the end of the day, the head you use is a matter of personal preference. Some people prefer the P72 GSR head's smaller combustion chamber. Others like the B16 head because it allows the higher-flowing ITR manifold to be bolted directly on. In either case, any DOHC VTEC cylinder head will suffice.
You'll also need several other parts in addition to the non-VTEC B18 block and DOHC VTEC head. One of the most crucial components is an LS VTEC oil supply kit, such as the Golden Eagle B-Series VTEC Conversion Kit, which will deliver oil to the new DOHC VTEC head without the need for any further machining. Rod bolts, head studs, a new oil pump, a GSR/ITR timing belt, and a reworked ECU are also required.
In general, the LS VTEC is the most significant and rewarding change you can make to a non-VTEC B18 engine. Making huge naturally aspirated power from a B18 engine that lacks VTEC is nearly a requirement.
Turbocharged Honda B18 Engine
Forced induction is a common upgrade for the Honda B-series, particularly the B18. Many Honda owners choose to turbocharge their vehicles with a prepackaged turbo kit that includes all of the essential components. As previously established, the B18 engine is exceedingly durable. With no significant internal improvements, the B18 can handle over 100+ more horsepower than stock.
Despite its general strength, many experienced B18 turbo enthusiasts recommend strengthening the bottom end, updating the fuel system, changing the timing chain assembly, rejuvenating the valve springs, and replacing the factory head gasket. These safeguards protect a 250-300 horsepower turbocharged B18 from the strong internal forces caused by forced induction.
More extensive modifications are required once you reach 350-400 horsepower. It's an excellent idea to have a machine shop resurface the cylinder head and block at this stage. You'll also need to upgrade to forged internals at this time. At that time, an upgraded crankshaft, forged pistons, rods, and upgraded rod and main bearings should all be considered.
The 400-horsepower mark is also when you should think about sleeving your B18's block. This will lessen the amount of internal wear on your B18 and act as an extra level of reinforcement. It also enables greater bore diameters.
A more powerful fueling system is also required for high-horsepower B18 designs. The stock gasoline pump, injectors, fuel lines, and fuel rail are the key components that should be upgraded. AEM 340lph fuel pump (minimum), 1000cc injectors, -8AN supply fuel lines, -6AN return fuel lines, and a high-flow fuel rail are required for 400+ horsepower.
Modifications to the Honda B18 Turbo
Turbocharging a Honda 4-cylinder requires an improved engine control system. Most Honda enthusiasts swear by the KPro ECU, which allows you to alter cam angle, ignition timing, fueling, and a variety of other essential components of engine performance.
Because all Hondas equipped with the B18 engine are front-wheel drive from the factory, you must consider how you will put the power down. Most enthusiasts with high-horsepower turbo B18 Hondas will agree that transferring more than 350 horsepower to the pavement is challenging. The increased power will undoubtedly put more strain on a variety of different elements that could benefit from an upgrade.
The stock Integra axles are said to be capable of withstanding up to 500 horsepower. Axle warp can occur at higher power levels. Traction bars could be used to strengthen the axles against the frame while also preventing wheel hop. Sticky and wide tires are required for B18 drag builds. You'll lose all of your power if you don't have them.
Related : The Honda B16 Engine Manual
The Most Common Honda B18 Engine Issues
As many people are probably aware, Honda 4-cylinder engines are among the most dependable powerplants available if properly maintained. It is crucial to note that modified B18 engines may not last as long. In general, with the B18 and most other engines, reliability is inversely related to horsepower. Having said that, substantially improved B18 engines can be extremely reliable depending on engine tuning, part quality, and other relevant considerations.
As a result, the list of common B18 engine problems is relatively brief. The majority of the problems with the Honda B18 are attributable to the fact that the earlier variations are now over 30 years old. Rubber hoses, seals, and other wear-and-tear parts erode with any engine of that age, presenting issues. Premature water pump and thermostat failure is one of the most commonly reported problems with the Honda B18. While this is a more sporadic issue that cannot be linked to a specific mileage, it is always a good idea to keep an eye on your B18 Honda's temperature gauge to ensure that it is not overheating. A water pump replacement on a Honda B18 can be complicated because the timing belt, tensioner, and bearings must all be replaced at the same time.
When Honda B18 engines reach 200,000 miles, they frequently begin leaking and burning oil. Rubber camshaft seals and other similar seals fail with time and begin to leak oil. Oil can also enter the combustion chamber via the piston rings and valves, leading the B18 to burn oil. Finally, this is a problem with almost every high-mileage engine and is not unique to the Honda B18.
Summary of the Honda B16 Engine Guide
The Honda B-Series genuinely reinvented the high-horsepower, low-displacement 4-series, and the 1.8L Honda B18 was instrumental in cementing the B-Series' history. The B18 is not only incredibly economical out of the box, but it is also a tough engine that can withstand upgrades and increased power. As a result, among tuners and enthusiasts, it is one of the most popular 4-cylinder engines.
While the United States did not receive many of the Honda B18 variants, the six that we did receive were all capable engines. Despite the fact that the vast majority of people in the U.S. Although B18 variants such as the B18A1, B18A2, B18B1, and B18B2 lack VTEC, their high torque figures and strength make them good candidates for modifications. The Honda B18C5 is the most sought-after motorcycle in the United States. Because of the use of VTEC in the B18 version.
Regardless of the B18 type, the Honda B18 has practically limitless aftermarket support. Upgraded B18 cams may completely change a naturally aspirated B18 while also shifting the power spectrum to meet your requirements. B18 turbo builds are a popular choice for many B18 owners since the B18 responds well to boost and can handle the extra power. Because B-Series engines have so many interchangeable parts, head swapping a non-VTEC B18 with a DOHC VTEC head is simple and inexpensive. While those three B18 modifications are common, they are only the tip of the B18 aftermarket iceberg.